STAGING SPECTACLE: THE INFLUENCES BEHIND SS RAJAMOULI'S ACTION SEQUENCES
When it comes to action-packed extravaganzas, few films have made as much of an impact on the global stage as SS Rajamouli's 2022 blockbuster RRR. But fans of Rajamouli's work know that the Telugu-language writer-director has been among the world's most innovative exponents of fantasy action cinema for close to 20 years now. From Simhadri to Sye, Yamadhonga and Eega and many in between, Rajamouli's work has become synonymous with groundbreaking spectacle pushing the technical possibilities of Indian epic cinema to new heights.
In this article, we will look at some of the films that have influenced the spectacular action sequences in Rajamouli's three most recent films: BAAHUBALI: THE BEGINNING (2015), BAAHUBALI 2: THE CONCLUSION (2017) and RRR (2022). We'll talk about a handful of films and sequences that inspired Rajamouli and how those influences may have found their way into some of his films' most well-known scenes.
SCENE FROM KUNG FU PANDA 2: Final Fight With Shen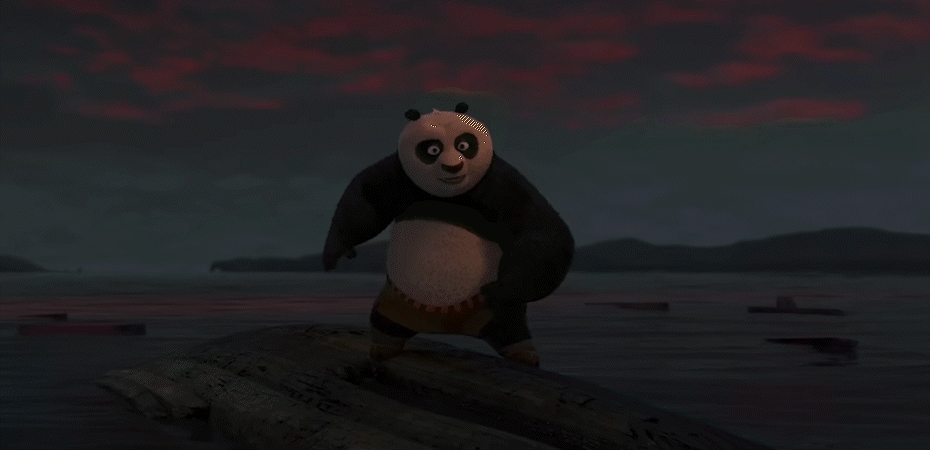 SS Rajamouli on KUNG FU PANDA, via The Movies That Made Me podcast:
"[For a long time] I didn't find any animation film that was really tugging at my heart, [one] which I was really, really enjoying. And suddenly Kung Fu Panda comes up. [I love] so many things about that movie…I think first and foremost it had a great storyline, it had a great character transformation. All that stuff. 
"Apart from that it had a great extravaganza visual, which the animation films I had seen before didn't have. They didn't have the kind of visual splendor Kung Fu Panda had, or the characters. And I also loved the philosophical part of it, which is so akin to Indian philosophy, where you aim for more peace and inner calmness rather than outward worldly possessions. 
"I felt I had so many connections to that character… It has that character arc where the character develops into his full potential… The foremost thing is all the good things about animation films, but also visual splendor. That's what defines Kung Fu Panda for me."
SCENE FROM BAAHUBALI: THE BEGINNING: BAAHUBALI'S ENTRANCE TO THE CASTLE
Baahubali's entrance to the castle bears a lot of the hallmarks of Kung Fu Panda 2's climax – a lone character being fired upon from all directions, who is able to use his skill and technique to evade and redirect the missiles calmly and without too much movement. Rajamouli's framing privileges Baahubali and places our central firmly in the hero status of the frame, positioning him as capable of taking down an entire army alone if needed.
SCENE FROM THE LION KING: Stampede
SS Rajamouli on THE LION KING, via The Movies That Made Me podcast:
"Unfortunately, and I don't know the exact reason why, animation films traditionally haven't done well in India. We don't have a market. There's a small market for kid's cartoon stuff, but people who love animation films are a very small niche. I belong to that. I loved cartoons as a child, animation films as I grew up…I had that kind of hero worship for Disney animation films… The best one if you ask me is The Lion King. The Lion King is my all time favorite."
SCENE FROM BAAHUBALI 2: THE CONCLUSION: Stampede
In this epic action sequence from Baahubali 2: The Conclusion, our hero finds himself trapped in a tree above a stampede of bulls from the palace. As they come charging down the hill and into the gorge, the energy, cutting patterns and scale of the stampede crafted by Rajamouli feels reminiscent of the stampede from The Lion King. When we cut back to the stampede, however, we find our hero, capable of superhuman feats, has lifted himself on top of the stampeding bulls, and is riding on top of them to safety.
SS Rajamouli on BRAVEHEART, via The New Yorker
"I usually don't like sad endings. Any story that I read, any film that I watch, I don't like it when the hero dies. But I remember the end of Braveheart, when we can see the hero [Scottish freedom fighter William Wallace] being tortured and eventually killed. He shouts "Freedom," and when the film ended I didn't feel sad. I felt very emotional. I felt my spirit being uplifted. You can see the pain in his face, how he calls on his inner strength to say what he wanted to say, even though it is just one single word. That made a deep impact on me.
Later, when I wrote RRR, I wanted to show a shift in the tone of Bheem's character. He's an innocent person until this moment. Then he takes a hard stance against his oppressors. We thought that we had a hard emotional foundation for an action sequence and didn't want to waste a chance. But then we thought a song would be nice. That's how people in Telangana, the region where Bheem's from, express their emotions. And I remembered Braveheart."
SS Rajamouli on BRAVEHEART, via The Movies That Made Me podcast:
"When I saw Braveheart, at that time I was already aspiring to be a director. It was a huge, huge influence on me. How he enhances the drama by slowing down the time just before the blow comes. How he slows down the timeline with the number of cuts, or slow motion, or enhancing emotion before the BANG comes in – I'm so so impressed by it. I've copied so many of those scenes in my films… In fact if you see the "Komuram Bheemudo" song in RRR, when Bheem is tied up and he's being whipped and he sings the songs and the people get inspired, that is very much inspired by the Braveheart climax."
SCENE FROM RRR: Komuram Bheemudo
In this scene from RRR, where Bheem's torture inspires the people watching to revolt against their oppressors, Rajamouli uses song to tie a thread through a visual language that calls back in multiple ways to the climactic scene of Braveheart, from the editing patterns of close-ups of Bheem being tortured to wide shots of the crowd watching, to the very method of the torture itself and the images that creates within the frame. 
SS Rajamouli is not coy about his cinematic influences and the ways they have made their way into his work. But the strength of his influences and the singularity of the stories to which they've been applied is a lesson in reimagining the work that inspires you. Rajamouli's films have a unique cinematic thumbprint that cannot be associated with any other director, and his influences have only made that thumbprint more idiosyncratic. 
These films are just a few of the many that he cites as crucial touchstones to his own work. The list of movies to explore after seeing the films of SS Rajamouli is vast and brimming with the pleasures of pure cinematic spectacle.