06.02.22 / New Features
Hello ShotDeck Community! Today, we're launching one of our most exciting updates yet: the Color Picker tool! This awesome feature provides a whole new way to discover the look of your project and is available to use right now!
Each one of our 300,000+ shots now comes with its own custom color palette strip. Click on any hue in the color palette to see moreshots with that exact same color.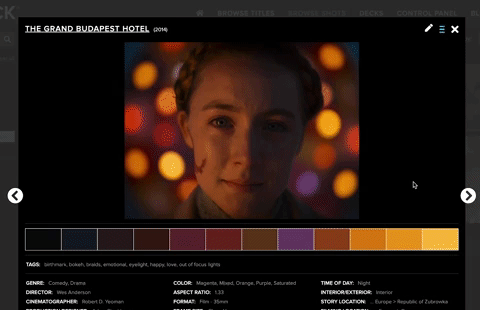 With the Color Picker tool in the Browse Shots sidebar, you can select the exact color you're looking for – even by using the RGB code. Simply select the hue, saturation, and lightness and immediately unlock every shot containing that color!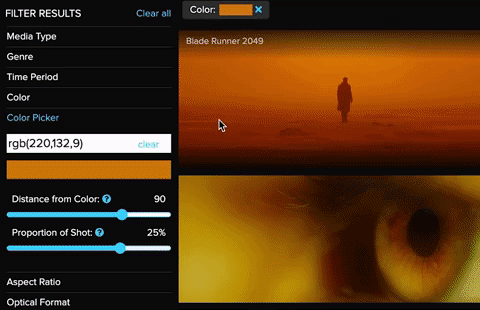 We've also added two simple modifier tools, Distance from Color and Proportion of Shot, to help you customize your results even further: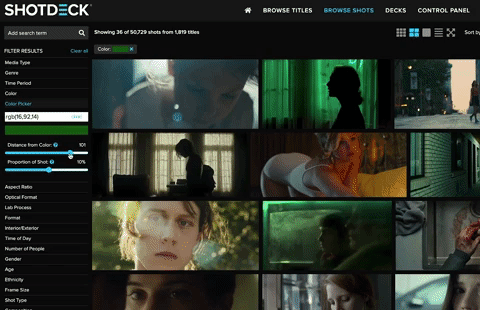 Increase this slider to see more nearby colors in your search results. Decrease the slider to narrow your search to just the colors closest to your exact selection.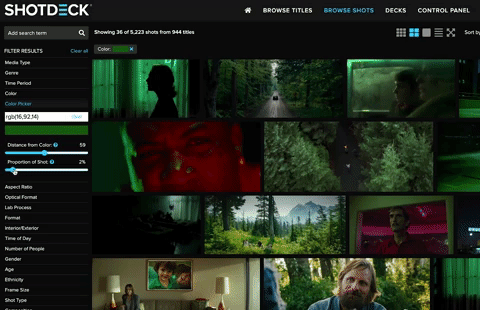 Increase this slider to see shots with more of your selected color in the frame. Decrease this slider to see shots with less of your selected color in the frame. 
We hope this tool helps inspire you to discover new shots from our ever-growing library of cinema! In the side filter table we still have our regular named colors and have expanded them to include pink and purple and mixed (warm and cool), so you can combine your color selections in creative ways. Go check out these brand new features on ShotDeck right now!